Joannes POSCH
Theresa POSCH
*1864
+1911
*1893
?
?
Maria THIER
?
*1867
+1901
Hungary
Joannes POSCH
Theresa POSCH
Karla HROMADA
*1895
?
*25.4.1928
+7.7.2000
?
+1985
Anton POSCH
Rudolph HROMADA
Donald HROMADA
*1897
+1971
*10.5.1921
+1982
1952
Paulina RUZICSKA
Mary POSCH
Peter FERENZ
*1901
+1987
*2.3.1930
+12.8.2013
1953
Maria POSCH
Joseph Andrew FERENZ
Anne FERENZ
*1899
+1901
*6.5.1929
+27.2.2011
1958
Anna POSCH
Jean-Marie FERENZ
*5.11.1933
+3.6.1999
1970
Jay ROBINSON
*1940
+2009
Anton POSCH Jr.
Christopher J POSCH
*2.1.1939
New York
*7.3.1962
+5.7.2020
Eileen C Maloney
Elisabeth POSCH
*20.2.1939
+17.2.2020
1965
Michael POSCH
1967
Kathrin POSCH
1974
June 05, 1999 Anne P. Robinson
WILLIAMSBURG — Anne P. Robinson, 66, of Williamsburg, died June 3, 1999, at Williamsburg Community Hospital. Born in New York, N.Y., she graduated from St. Elizabeth College with a degree in business administration and lived in Pleasantville, N.Y., until residing in Williamsburg four years ago. She was a member of St. Bede Catholic Church. She is survived by her husband, Jay Robinson of Williamsburg; three sons, Theodore C. Robinson of Bedford, N.Y., Thomas W. Robinson of Los Angeles, Calif., and James J. Robinson of Indianapolis, Ind.; four grandchildren; one brother, Anton Posch Jr. of New York, N.Y.; two sisters, Theresa Hromada of Valley Stream, N.Y., and Mary Ferenz of Charlottesville. A funeral mass will be held at St. Bede's Catholic Church on Monday, June 7, at 2 p.m. Family will receive friends at Bucktrout of Williamsburg today from 6 to 8 p.m., and Sunday from noon to 2 p.m. and 6 to 8 p.m. where vigil services will take place in the chapel at 7 p.m.
March 7, 2009 Irene M. Orth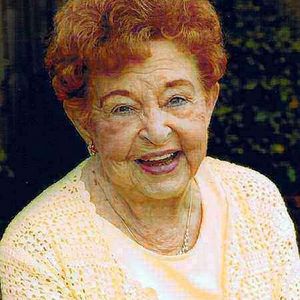 Irene M Orth, 85, of Kyle, Texas, died Saturday, March 7, 2009, at Sundance Inn Nursing Home. She was born in Middletown, Ohio on August 30, 1923 to parents Orville and Sadie (Halsey) Binnix. Irene was a graduate of Middletown High School and lived in the Middletown / Franklin area for over 50 years. She was the restaurant manager of Forest Hills Country Club before retiring with her husband to Pinellas Park, Florida. She spent the last few years of her life in and around New Braunfels, Texas. Irene was a very loving mother and grandmother. She was known for her wit and good cooking. Her recipes will live on for many generations. She will be truly missed by family and friends. Mrs. Orth was preceded in death by her husband, Charles; her son, Carl Robert Orth; and her parents. She is survived by her daughter, Barbara Reuter of Kyle, TX; four grandchildren, Robbie Orth of Carlisle, OH, Jennifer Martionetti of Wimberly, TX, Scott Reuter of Tyler, TX and Andrea Renteria of San Antonio, TX; and four great grandchildren. Funeral Service will be held Saturday, March 14, 2009 at 10:00 am at WILSON-SCHRAMM-SPAULDING FUNERAL HOME, 3805 Roosevelt Blvd., Middletown with Father John Civille officiating. Visitation will be Friday from 5:00 - 7:00 pm. Interment will be at Woodside Cemetery.
February 27, 2011 Joseph Andrew Ferenz

Joseph Andrew Ferenz, 81, of Keswick, died on Sunday, February 27, 2011. He was born on May 6, 1929, in New York City, the son of the late John and Anna Ferenz of Slovakia. In addition to his parents, he was preceded in death by a grandson, Mark Ferenz. Mr. Ferenz retired as a civil engineer after having worked in many countries throughout the world. He is survived by his wife, Mary Elizabeth Ferenz; two daughters, Anne Ferenz and Jean-Marie Fernandez; one son, Peter Ferenz; one brother, John Ferenz; eight grandchildren, Sofia Fernandez, Alexander Fernandez, Alina Fernandez, Elizabeth Wallace, Paula Fisher, Helen Ferenz, Margaret Ferenz, and Andrew Ferenz; and three great grandchildren. A funeral mass will be conducted 11 a.m. Thursday, March 3, 2011, at St. Thomas Aquinas Church. Interment services will be conducted 1 p.m. Saturday, March 5, 2011, at Park Lawn Memorial Park in Rockville, Maryland. The family will receive friends from 5 until 7 p.m. Wednesday, March 2, 2011, at the Teague Funeral Home. "We were so very sorry to hear of Joe's passing away. He..."- Sally & George Soule http://www.tributes.com/gift/leave_gift/90878446
August 12, 2013 Mary Posch Ferenz

Mary Posch Ferenz passed away on Monday, August 12, 2013, at the age of 83 at the Sunrise at Fox Hill Assisted Living Community in Bethesda, MD. She was born on March 2, 1930, in New York City, the daughter of the late Anton and Pauline Posch of Slovakia. She was preceded in death by her beloved husband of 58 years, Joseph Andrew Ferenz, her parents, her sisters, Theresa Hromada and Anne Robinson, and her grandson, Mark Ferenz. She is survived by her two daughters, Anne Ferenz and Jean-Marie Fernandez; one son, Peter Ferenz; one brother, Anthony Posch; eight grandchildren, Sofia Fernandez, Alexander Fernandez, Alina Fernandez, Elizabeth Wallace, Paula Fisher, Helen Ferenz, Margaret Ferenz, and Andrew Ferenz; and five great grandchildren. Mary met and married the love of her life, the "boy next door", Joseph Andrew Ferenz on November 15, 1952, and embarked upon 58 years of a wonderful life marked by deep love, family, and extensive travel. Always by her husband's side and following his work overseas, she lived many years in The Netherlands, Iran, Canada, Great Britain, and spent many months in Saudi Arabia and Egypt. Mary and her husband retired to Charlottesville, Virginia, and enjoyed time together with friends and watching her husband play golf. Mary loved reading with a passion, classical music, and absolutely anything British. She adored her grandchildren, and spent her final years helping with homework, attending recitals, and watching her favorite tv shows in their company. A Funeral Mass will be conducted 11 a.m., Thursday, August 29, 2013 at Our Lady of Mercy Catholic Church in Potomac, MD. Interment services will follow at Parklawn Memorial Park in Rockville, MD. The family will receive friends and family immediately following the interment at the home of Jean-Marie and Raul Fernandez. In lieu of flowers, contributions may be made to Catholic Charities of the Archdiocese of Washington at 924 G St. NW, Washington, DC 20001. (202) 772-4394. catholiccharitiesdc.org
July 5, 2020 Christopher Posch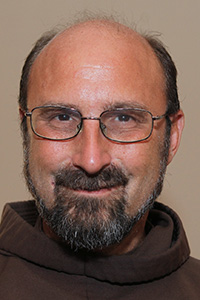 SILVER SPRING, Md. — Christopher Posch, OFM, 58, a professed Franciscan friar for 30 years and a priest for 25, died on July 5 at Holy Cross Hospital in Silver Spring, where he had been hospitalized since early June with pneumonia. He had served since 2016 as pastor of St. Camillus Parish, where funeral services were held. Chris was born on March 7, 1962, in Astoria, Queens, New York, to Anthony and Eileen (née Maloney) Posch. After graduating from Plainview-Old Bethpage High School, he obtained a bachelor of science degree in computer science in 1984 from Manhattan College in New York City. Before joining the Order, Chris taught at a Catholic high school on Long Island and volunteered at a soup kitchen. In 1989, he was received into the Order of Friars Minor at the Province's novitiate in Brookline, Massachusetts, where he made his first profession of vows on June 2, 1990. He earned a master of divinity degree from Washington Theological Union, and studied philosophy at St. Joseph College and the University of Hartford — both in Hartford, Connecticut. Chris professed his final vows on Sept. 17, 1994, at St. Francis of Assisi Church in New York City before Provincial Minister Anthony Carrozzo, OFM. He was ordained a priest on May 13, 1995, at St. Anne Church in Fair Lawn, New Jersey, before Bishop Peter Rosazza. About Chris life